Membership in this Credit Union is open to individuals who are included in the field of membership as defined in the bylaws. No member will be denied any service of this Credit Union due to discrimination because of race, color, religion, national origin, sex, marital status or age (provided the applicant has the capacity to enter into a binding contract).
Work or Reside in the Following Counties:
Follow us on Social Media!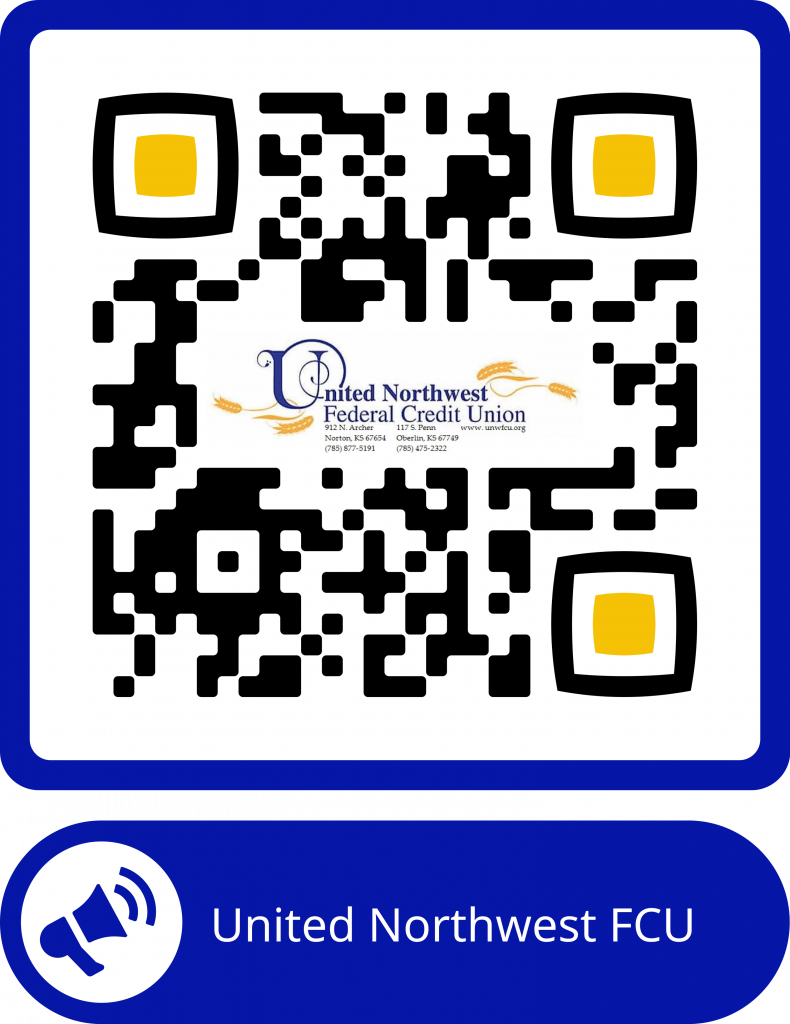 United Northwest Federal Credit Union is Federally Insured by NCUA. For questions about coverage or to use the share insurance estimator click HERE.
---
United Northwest Federal Credit Union
*Effective December 1, 2022
Fees & Service Charges
*The following fees may be assessed on your account
Share / Savings Account Fees
Minimum deposit required to open a share account
$50.00
Quarterly Maintenance fee (If savings balance falls below required amount within the quarter)
$1.00
Negative Balance Fee (Lowering savings account below required amount – per occurrence)
$5.00
Early close Fee (Accounts open and closed in less than a year)
$20.00
Account re-open Fee (Accounts closed and re-opened within 3 months)
$20.00
**EZ Saver Account withdraw fee (per occurrence)
$3.00
**Annual 2 month window for withdraw from EZ Saver account after 10 consecutive months of saving**
Free
ShareDraft / Checking Account Fees
Share Draft monthly maintenance fee (If balance falls below $200.00 within the month)
$2.00
***Exempt from fee if statements are received electronically
Free
Now Checking Account monthly maintenance fee (If balance falls below $2,500.00 within the month)
$5.00
Research or Reconcile Account(s) (per hour with 1 hour minimum)
$25.00
Check Copy Fee (per check)
$2.00
Duplicate Statement (If statement is mailed the fee is per page – otherwise the fee is per month)
$3.00

Statement on closed account (per month)

$5.00
Insufficient Funds Fee – If Account is allowed to go overdrawn (at our discretion) – per presentment^
$30.00
*After 5 consecutive delinquent banking days a $5 fee will be charged PER DAY
$5.00
ACH and Draft Insufficient Funds Return Fee – per presentment.
$30.00
*PLEASE NOTE UNWFCU reserves the right to transfer funds from your share account to cover Drafts ACH's & charges
Replacement Debit Card
$5.00
Instant Issue Replacement Debit Card (printed in office)
$10.00
Temporary Check Fee (per sheet – 4 checks per sheet) First 2 sheets free with new account
$2.00
General Fees
Dormant Account Fee (Account inactive with no contact from member for 2 years) – Charged Monthly
$10.00
Deposited/Cashed Check returned to depositor (member) unpaid [at management discretion]
$10.00
Check Cashing Fee (Nonmember cashing a check through a member account) per check
$10.00
Stop Pay Fee (Check or ACH)
$20.00
Collection Fee (Any item sent to attorneys for Collection)
$15.00
Garnishment/Levy Fee
$15.00
Mail returned to CU with Post Office Change of Address (per envelope)
$1.50

Loan Payment Return Fee (Any payment applied via Check or ACH that is returned to CU unpaid – per presentment)

$30.00
Re-Adding Joint Owner or Authorized Signer to Personal Account
$20.00
Remote Deposit Rejection Fee (at CU discretion) – per rejected item
$2.00
Other Service Charges/Fees (Must have an active account in good standing)
Money Orders
$3.00
Cashier's Checks
$5.00
Teller Check from members account made payable to a third party
$3.00
Gift Card Activation Fee
$4.00
Travel Card Activation Fee
$10.00
Everyday Spend Card Activation Fee (personalized pre-paid card)
$10.00
Online Bill Pay Fee (per month)
$2.00
Online Bill Pay Revocation Fee (service cancelled by CU due to abuse/misuse)
$5.00
Fax – incoming or outgoing (per page)
$1.00
Wire Transfer Fee (To wire money to another institution)
$20.00
Incoming Wire Fee (To receive a wire from another institution)
$10.00
Credit Union to Credit Union Transfer
$10.00
Same Day ACH Origination Fee (origination sent and received on the same business day) – per origination
$8.00
CU Initiated ACH Origination Set-up Fee (Electronic transfer between institutions initiated by CU)
$5.00
CU Initiated ACH Origination Fee (Recurring electronic transfer between institutions) – per origination
$1.00
*ALL Loan Payments that are set up as an ACH Origination are exempt from set-up & origination fees!*
Free
Online Banking ACH Origination Set-up Fee (set up by member using online banking platform)
$3.00
Online Banking ACH Origination Transaction Fee (set up by member using online banking platform) – per origination
$.50
ACH Rejection or Return Fee (ACH we originate returned unpaid) – per presentment
$5.00
Member Coin Counting Fee (Percentage of total amount ran through coin sorter)
10%
Non-Member Coin Counting Fee (Percentage of total amount ran through coin sorter)
15%
Annual Safe Deposit Box Rent – Small Box (4.75″ X 4.75″ X 21″)
$12.00
Annual Safe Deposit Box Rent – Medium Box (9.75″ X 4.5″ X 21″)
$18.00
Annual Safe Deposit Box Rent – Large Box (10″ X 9.5″ X 21″)
$36.00
Lock Replacement Fee (if a key to a safe deposit box is lost and the lock must be replaced)
$75.00
Lock Drilling Fee (if both keys to a safe deposit box are lost and the lock must be drilled)
$250.00
Telephone Inquiries
Free
Direct Deposit
Free
Notary Service for Members
Free
^PLEASE NOTE: PER PRESENTMENT MEANS FOR EACH TIME A CHECK, ACH, OR DEBIT TRANSFER (AND ANY OTHER TYPE OF ITEM) IS PRESENTED OR PAYMENT IS OTHERWISE REQUESTED